It's true that I wrote parts 5 and 6 already. But I changed my mind. :)) I edited them again. Sooooo...
Ryosuke couldn't believe what he was hearing.
Is this real? She likes me?! XD
"A-and you think he likes you too?" Oozaki stuttered.
*bell rings*
"Oops, there goes the bell." Yurie said happily and rushed inside the classroom. She thought of Oozaki's question. She wasn't sure. Maybe Ryosuke's just playing with her.
- - -
"Yannie--" Yuri looked around her to see Yannie's empty seat. She shrugged and collected her things for break time. When she cleared her desk, she saw a note between her books.
It's getting late. Wait. It IS late. :))
Comments are <3!
4649! <3
Current Mood: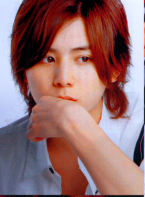 bored